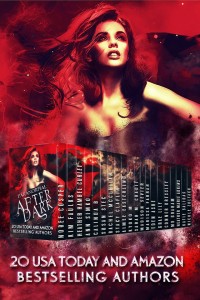 It's 2016. Are you hungry for more paranormal and supernatural reads? Then look no further!
Check out the Paranormal After Dark boxed set, which includes 20 novels from USA Today and Amazon Bestselling authors (yours truly included) for an unbelievable price of only $2.99, or for free if you're a part of the Kindle Unlimited program.
Here's the masterlist of titles and authors:
A Dose of Brimstone by Noree Cosper
End of Dreams by Kim Faulks
Haunt by Hambel Curley
Dark Crossings by Ann Simko
Seattle 2052 by Calinda B. Headspace
The Other F-Word by Susan Stec
Unleashed by Rachel McClellan
Hidden Intentions by Stacy Claflin
The Complete Bloodling Serial by Aimee Easterling
She Who Fights Monsters by Kyoko M
St. Charles at Dusk by Sarah M. Cradit
Wicked by Nature by Madison Sevier
Underlife by Marissa Farrar
Dragon's Redemption by Eden Ashe
Milan's Return by Grae Lily
The Breaker's Code by Connor Kressley
The Medium by M. R. Graham
Wiccan Wars by Heather Marie Adkins
Carpe Noctem by Katie Salidas
A Question of Faith by Nicole Zoltack
This is a limited edition boxed set that won't be around forever, so please take advantage of that killer price tag, grab yourself a copy, and spread the word! It is greatly appreciated. You can also add it to your Goodreads shelf for a future reading date.
Happy reading, folks! Stay tuned for news of my upcoming new fantasy series as well.
Kyoko M.