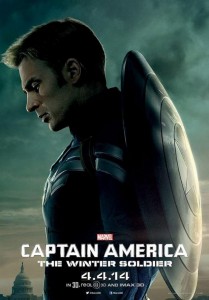 Altruism: (noun) the belief in or practice of disinterested and selfless concern for the well-being of others.
So Captain America: The Winter Soldier was frickin' awesome.
I've already seen it twice and I plan to see it plenty more times. I'm so endlessly pleased with everything from the cinematography, to the fight choreography, to the chemistry between Steve and pretty much every single person in his life, and everything in between. I just adored it from start to finish.
However, sometime this week, my part-time mentor had a heated conversation on Facebook about why The Winter Soldier succeeded where Man of Steel (2013) failed. I didn't participate and only saw it in passing, but it definitely got me thinking in terms of the writing.
First off, a disclaimer: I am one of the few people on the planet who doesn't hate Man of Steel. That being said, I am also not quite a fan. I straddle the fence. Gun to my head, I'd give the movie 3 out of 5 stars—passable, mediocre, decent. The reason why is that Man of Steel did something that the other Superman films had not done yet: it took risks. Now, did those risks pay off? Ehhhhhh, kind of? In certain respects, the risks Man of Steel took paid off, like deciding to have Lois know Clark's identity or showing Clark's alienation and struggle to use his powers in non-selfish ways. The other risks, like Papa Kent being a selfish douche and dying for absolutely no reason or making Superman kill his first villain, no, I don't think it pulled those dramatic changes off properly.
That's what I want to chat about today: the differences between the attempted altruism in Man of Steel and the altruism that actually carried through in The Winter Soldier.
Mind you, it's not my intent to compare the movies as a whole because they are two different entities—a reboot and a sequel with vastly different tones. Instead, let's just focus on the super fellas themselves.
So in The Winter Soldier, Steve has begun to adjust to his surroundings. He is a great deal more cheerful than we saw him in the Avengers, where he was still in a bit of mourning for what he lost during his frozen slumber. He immediately bonds with Sam Wilson (Anthony Mackie for President! Whoo hoo!) and has oodles of chemistry—both friendly and sexual, you ask me—with Natasha, all the while still having major issues with SHIELD. It's for good reason, too, since the Battle of New York caused infinite amounts of fear and paranoia with the world powers.
What I think TWS did correctly was the internal struggle of Steve's orders versus Steve's gut feeling. Especially with the opening sequence where they told him to save the hostages, and it turns out it was Nick Fury manipulating him. Steve's anger was completely justified. Nick Fury tends to be the ultimate "big picture" kind of leader, so he could sacrifice a few lives if it saved billions, but that's the problem. Alexander Pierce had the same idea, but in horrendously huger numbers. Steve had a choice to make, and it was by far one of the most important of his life. What's more is that this idea carried through with Bucky as well. Once he learned the Winter Soldier's true identity, Cap had to make a choice. He could have believed what Sam said, that the Winter Soldier was beyond saving, but he didn't. He chose to have faith in his past friendship, a decision that could have cost him his life, but he still did it. I think that is definitely "the belief or practice of disinterested and selfless concern for the well-being of others."
Now let's take a look at the Man of Steel. Clark grew up confused and angry after learning that he had powers beyond anyone's imagination to comprehend. He was bullied, and wanted badly, like any normal kid, to get some payback, but he restrained himself. He also ran into cosmic a-holes as an adult—seriously, Clark is an angel for not killing that guy in the bar, I'd have shoved that mug of beer right up his ass Hancock-style—and managed not to act on his anger there either. However, one of my many issues with this version of Clark is that they never directly address what the comic books bring up: the idea that Clark is against capital punishment. I might have cited it before, but the story "What's So Funny About Truth, Justice, and the American Way?" by Joe Kelly, and later adapted into an awesome DC animated original film "Superman vs. the Elite" deals with the idea that Clark has the ability to stop a threat permanently, but chooses not to, and there are dire consequences for that decision.
If the film had perhaps started with Clark stopping small crimes here and there and resisting the urge to kill, then maybe Zod's fate would have been easier to swallow, or perhaps more meaningful to the narrative. The film tried to give us an altruistic Superman, but because of Pa Kent's negative behavior, the way he died, the way Clark constantly brooded over whether to trust the human race or not, it ended up shriveling up instead of flourishing. I could see the seeds trying to grow, but the joyless tone that Zack Snyder and David Goyer enforced on the movie prevented our Boy in Blue from his true Boy Scout nature.
I think Marvel has a better understanding of what makes our heroes the kind of people everyone can root for. They have darkness in their lives, and secrets, and flaws, but Marvel doesn't let it swallow up their characters. There were plenty of hilarious lines (especially Nat and Steve and Steve and Sam) and heartwrenching dramatic scenes (I'm still crying about Steve and Peggy, hand me a tissue), but the overall effect is surprisingly hopeful. Even with SHIELD branded as terrorists and the world on the hunt for Nick Fury, the fact that Cap did the right thing in the end—choosing to try to save Bucky and trying to root out the Hydra from the good guys at the SHIELD HQ—is what made him an altruistic hero. We never really got that moment in the Man of Steel where Clark chose to believe in humanity. Sure, he protected it, but I didn't feel his love and sacrifice for the people living alongside him. The only person he truly bonded with was Lois and you certainly felt his devotion to her, but not the human race.
Writing makes the difference between these two men, these two heroes. It's perfectly possible to make a hero who has darkness in his life, but doesn't let it define him. DC seems to not understand why The Dark Knight saga was successful and why Man of Steel couldn't follow in its footsteps. Clark Kent and Bruce Wayne are opposites in every way: one from humble beginnings, one from privilege; one with an optimistic view, one with a pessimistic view; one who operates using the fantastic, one who operates using the practical. The Dark Knight seemed like it had a dark view of the world, and it did, but oddly enough, Bruce had a better grasp of altruism than Clark did, and that is why the Man of Steel couldn't reach its potential. Bruce believed in his city without flinching. He believed that the people in Gotham were not beyond saving and that if he gave them an ideal and a symbol to believe in, they could get better and rise to the occasion. Captain America did that too. But Clark never did that.
In the end, I think the positive reactions to Captain America: The Winter Soldier are directly a result of Marvel and the movie writers understanding of what makes our heroes true heroes. It's not that they are perfect and powerful, it's that they are just as screwed up as we are, but they put their own needs aside to help us. They fight for our freedom and they make it personal. Cap didn't have to give that speech asking the members of SHIELD to disobey direct orders. He could have been cynical and just tried to stop everything on his own, but he didn't. He trusted us. And that's why we love him.
*salutes* Here's to you, Cap'n. Now get in my bed.