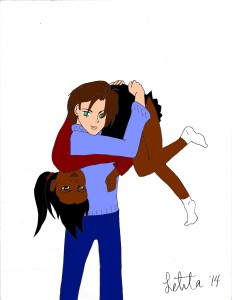 Welcome back to another installment of headcanons from The Black Parade series! In case you're late to the party, here are Parts One and Two. A headcanon is basically something that is thought to happen off-screen in a work of fiction. In this case, we're taking another crack at married life with Jordan and Michael. Enjoy!
Gives nose/forehead kisses: Michael. He is extremely affectionate when the two of them are alone. Jordan will give him a forehead kiss every once in a while, but he's more prone to do it.
Gets jealous the most: Michael. If they're out on a date, he gets a little grumpy if guys look at Jordan, but he doesn't do anything about it other than maybe scowl at them. Jordan scolds him if she catches him doing it, so he has to be very covert about it.
Picks the other one up from the bar when they're too drunk to drive: Neither, since Jordan's past issues with alcohol mean that neither of them drinks much.
Takes care of on sick days: They take turns, but Michael getting sick is an entirely different animal. He's prone to get a Man Cold, where he's basically a giant whiny baby and Jordan patiently makes him tea and force-feeds him cold medicine on the rare occasion that it happens.
Drags the other person into the water on beach day: Michael drags Jordan in every time. She can swim, but she doesn't like getting her hair wet. Michael always makes up for it by helping her wash her hair later and she always forgives him.
Gives unprompted massages: Michael loves giving Jordan massages. It took quite a bit of convincing since she's so self-conscious about her scars, but it turns out Michael is quite good at them. He still gives her foot massages on nights when she can't get to sleep too.
Drives/rides shotgun: Michael drives. It's a male ego thing.
Brings the other lunch at work: They alternate. Michael brings her lunch when she has long shifts at work, and Jordan brings him lunch when he leaves the house late and forgets to take it with him.
Has the better parental relationship: Michael, naturally, since Jordan and Lewis were estranged for so long. That being said, he and Lewis really dislike each other and pretty much exchange one or two words whenever they're around each other.
Tries to start roleplaying in bed: Michael's had quite a few ideas, but nothing too outrageous—the French maid and the Naughty Nurse being the first couple he asked about. The only one Jordan ever requested was Michael dressing up as Harry Dresden, which he was all too happy to oblige.
Embarrassingly drunk dancer: Michael. Again, he almost never lets himself get there out of respect for Jordan, but of the two he'd be more likely.
Still cries watching Titanic: Neither. They both hate the movie.
Firmly believes in couples costumes: Michael. He's super enthusiastic about Halloween and actually teams up with Lauren to pick their costume for the parties they attend each year. Jordan goes along with it as long as it's nothing too outlandish.
Breaks the expensive gift rule at Christmas: Michael. But Jordan always counteracts it with something really thoughtful and sweet.
Makes the other eat breakfast: Jordan. Michael is a procrastinator when it comes to work, so she always makes him stop and grab a bite before heading out the door.
Remembers anniversaries: Both of them are pretty good about it. Jordan keeps track of the minor ones and Michael keeps track of the big ones: six months, a year, etc.
Brings up having kids: Since they can't conceive, neither of them really discusses it, especially not after they adopt Allison.