So I had the talented Christina of Green Sketches draw our handsome hero, Michael. Take a look: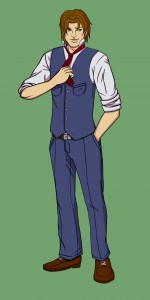 I personally think it's the bees' knees, if you'll pardon the outdated slang. I thought it'd be fun to get some visuals for the main cast of The Black Parade, so tell me in the comments who you'd like to see next: Jordan, Belial, or Gabriel?
Speaking of which, we're closing in on the release date for "The Deadly Seven." I've started a contest on Facebook. Tell me who you think could play Jordan and Michael if the Black Parade ever got made into a movie. Best answer gets a free advanced copy of "The Deadly Seven," which is looking to hit shelves in early April. Follow the link to the page and enter for your chance to win.
Plus, don't forget to sign up for our mailing list. You'll get all the goodies before anyone else.
See you soon!