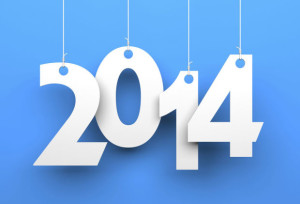 Whew. It's been some year, hasn't it?
My friends and I had our annual end-of-the-year chat last night via Skype and one of them asked me how I felt about 2014 as a whole. I told him 2014 seems to be a year of extremes. It seems as if every good thing that's happened has been counteracted by something horrible. I met my favorite author, Jim Butcher, but I had to quit my day job. I got a new car, but I also got a car payment. I've sold a lot of books, but I'm still unemployed. I bought some awesome new outfits, but I also gained a few pounds so now I've started the grueling process of exercising. It's been a give-and-take from day one this year.
I think the most important thing about 2014 is the amount of knowledge I've now crammed into my head in just twelve months' time. The things I know about writing, editing, marketing, and publishing would have served me extremely well this time last year, but there's nothing to be done about it now.
I estimate I had only sold about 45-50 copies of The Black Parade in December of 2013 and now we've got 7,500 copies circulating on readers' shelves. This year, I was able to launch The Deadly Seven, my short story collection, as well as the sequel to my first novel, She Who Fights Monsters. BookTrackr estimates I've got 5,600 copies of The Deadly Seven and She Who Fights Monsters out there. I also was lucky enough to be included in the Paranormal 13 box set with 13 other insanely talented authors. The set is free across all platforms, and last time I checked, we were well over 100,000 sales, so there are also a lot of people who will (hopefully) eventually see my work as they read through the set.
I consider my greatest accomplishment of the year to be simply getting my name out there. Yes, I am still a small fry, but I've actually met a handful of successful authors and I've gotten a couple of fans, which is incredibly humbling.  Last year, I was pretty much lying in a puddle of my own pity depressed about not selling, and now I understand that there is more to selling novels than throwing your work out there and expecting to be recognized. Readers have too many choices out. It doesn't mean that my books are masterpieces or total garbage. It just means they haven't found me yet. 2014 has proven that there is indeed a market for my particular type of storytelling, and nothing is more encouraging than knowing someone hears my voice and likes it.
I think it's important for young upcoming authors to know that they aren't alone and that the percentage of authors who are instant successes is far smaller than you think. Sadly, the mass media perpetuates the myth that there are millions of them and you're a big fat loser for not selling, but that's not true. There are some who hit the jackpot, but most authors take years to generate a following and start actually making money. It's discouraging to know, but it doesn't mean it's impossible if it just takes a long time.
I would say the lesson I've learned for 2014 is that you can only go up from rock bottom. My life still isn't where I'd like it to be, especially since I just turned 26 (aka the age where you're supposed to have your shit together, according to society), but this year has proven that I can meet my goals if I just keep my eyes fixed on the horizon and keep swimming. Dry land's out there somewhere. There's nothing left to do but sink or swim.
I hope 2014 has been good to you, dear readers. We've suffered some serious losses, but the important thing is we dust ourselves off and keep going. May 2015 be a better year to us all.
Happy New Year from yours truly,
Kyoko