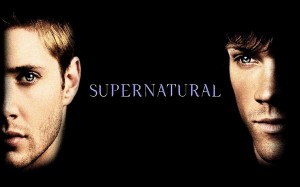 A handful of you follow me on Twitter, so you might be aware that tonight, after the ninth season finale, I quit Supernatural–a show I became aware of two years ago and then promptly became so disappointed in that I threw in the towel before the show even got canceled. Well, if only for my own sanity, I'm going to tell you why.
Because when I started this show, it was about two brothers fighting evil, not two brothers fighting each other over the same issue over and over again.
Because when I started this show, it was about both Dean and Sam, not just Dean and how "awesome" the writers and the fandom think he is.
Because it used to make me think, make me feel, make me laugh, make me cry, make me hope, make me wonder.
Because Dean Winchester used to be a complicated, sympathetic big brother with Daddy issues, not a selfish, cowardly, arrogant prick who constantly thinks he knows better than his "little brother."
Because Sam Winchester used to be an angry boy trying to step out of his brother's shadow, and now he's an angry man who keeps a holding pattern in a destructive, abusive relationship with someone incapable of letting him go.
Because it used to stretch up into the stars and pluck out ideas and spread them out on a map and make us chase after them to find the answers they left for us.
Because it used to have memorable, important, vibrant characters from all walks of life.
Because it used to respect the female gender and wrote women with purpose, great backstories, fantastic delivery, and colorful personalities instead of the same boring women copy/pasted and killed off just to make the Winchesters guilty.
Because it used to be able to keep up with its own continuity and wove in threads between seasons like a great tapestry should.
Because it used to have one-liners that made me laugh so hard, I had to pause the video and tweet about it.
Because it used to creep me out so badly that I couldn't look in a mirror for weeks after watching "Bloody Mary."
Because it used to know how to break the fourth wall, or paint it, or lean on it, without having to rely on memes or outdated pop culture references.
Because it used to have monsters I never heard of from all kinds of cultures and (except for those lame-ass vampires) made them bold and intriguing.
Because Sam left his own brother in Purgatory for a year just to hook up with some bland girl and a dog.
Because Dean chose a stupid, uninteresting, stereotypical Cajun vampire over his brother because "Benny never betrayed me" despite the fact that Dean has only lived this long thanks to his real brother.
Because Dean constantly chooses to "die alone" instead of trusting the one person on this earth who has proven beyond a shadow of a doubt that he has the strength and intelligence to fight and save the world.
Because the writers are so busy trying to wink at the camera with Meta-Metatron that they don't see what a pathetic, badly-paced, horribly written, sickeningly sexist script they wrote for season nine.
Because I used to look up to this show and proudly wear the t-shirts my brother bought me for my birthday with Dean, Cas, and Sam on them, and now I shove them to the back of my closet in shame.
Because Sam and Dean were once two normal guys with a bad home life trying to make things right, and now they are just hollow zombies of what they once were because the CW doesn't want to lose 12 million viewers rather than ending a show that shouldn't have made it past season seven.
Because I would rather quit now, when I hate everything this show has become, than force myself to see how much more terrible it can become before the end.
Because as much as I love Jensen Ackles, Jared Padalecki, Misha Collins, and Mark Sheppard, I'd rather put the series to rest than risk losing respect for them as actors for continuing to work on such a rancid show.
Because I loved this show when I started it, now I couldn't care less about it.
Because I just watched a psychotic angel stab Dean Winchester in the chest, and I felt absolutely nothing.
Because there is no more wonder for the Winchesters to explore.
Because it is the only show on network television in 2014 that does not have a main female cast member (and I don't care if it's the studio being cheap, the fandom being a bunch of nasty bitches, or the writers being sexist, that is fucking unacceptable).
Because I'd rather not see if the writers sink low enough to make "Destiel" canon just because majority the fandom says that's the way it should be.
Because it hurts to see a show I once respected in the highest regard for its originality, zest for the occult, and unapologetic tinkering with well-known tropes fall so far and continue to crawl through the mud like a mongrel.
It is for these reasons, and so many more, that I say goodbye to Supernatural tonight. You were great, once upon a time. But I can't do this anymore. I can't pretend that you aren't a ghost. So I will burn your bones and salt the earth to let you go.
After all, you've been dead for years.
You just didn't know it.
R.I.P.
Sincerely,
Kyoko M.