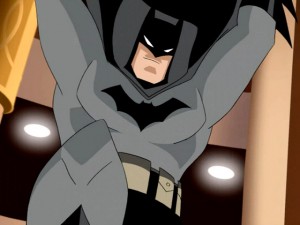 In honor of the Dark Knight's 75th anniversary, I figured I'd take some time out to show what the Caped Crusader and his world have done for me as an author.
I know what you're thinking.
"What does a 6'2'' billionaire playboy who dresses up as a winged rat to fight hoodlums have in common with the prestigious institution known as writing?"
Well, if you'll calm your mammary glands for an instant, I'll explain. You see, I've been writing my entire life. If I have learned one thing, it is this—writing comes from inspiration. No one ever said that inspiration is conventional. So ignore what your mother told you about talking to strangers and listen to me for a moment while I attempt to explain how Bruce Wayne may be one of the best teachers in the writing field to date.
Darkness is multifaceted and interesting. Let me clarify—I do not believe that all heroes and heroines must be dark. Every protagonist does not need to be a tortured soul with loads of self-hatred and PTSD. Hell, some of the best heroes out there thrive because of their optimism. However, there is a reason why Christopher Nolan's 'The Dark Knight' is the fourth highest grossing film of all time in the states. People want to see the ugly part of the soul. They crave it. All of the horrific things that have happened to Bruce from birth to his current state in the movies, comic books, and animated world are what make him so fascinating. He walks the line between good and evil every single night he patrols. For years, writers and readers have questioned whether Batman will ever become that which he fights against and we are compelled to follow his story because he continues not to give in.
It is possible to relate to unrelatable characters. I know, that sounds like a drunken 3AM tweet, but let me elaborate. Most likely, you were drawn to this article because of its absurd title. I mean, how the hell can we relate to a highly successful crime-fighter with gadgets and cool cars and hot women coming out the wazoo? Well, Captain Cynical, I'll tell you how. Batman is not so different from you and me.
As Batman is compelled to protect the innocent, so are we writers compelled to slam our fingertips against stupid plastic keys and somehow make stories come out. We are unable to stop it. For example, Batman has tried to quit several times in the comic books and even in the animated world (See: 'Batman: Mask of the Phantasm' and 'Batman Beyond.') Writers know what that's like. To stare into the empty abyss of a Word document, throw up your hands, and watch six hours worth of 'Supernatural' after swearing to never write again. Then eight hours later, we're sitting in front of the same document, cursing profusely and writing anyway. Makes sense now, doesn't it?
The villains are just as important as the main character. Batman is a mainstay in our culture not only because he's a badass but because he (debatably) has the most memorable villains of any comic book character. Without going to Wikipedia, name as many Batman badguys as you can. I'll wait. I bet you a quarter you were able to name at least five of them. (And cough up that money, man, I've got bills.) Why does that matter? Because the villains define the hero. No one wants a boring villain with nothing to offer our frothing imaginations.
Each villain represents some part of Batman, whether he realizes it or not. Batman represents justice so the Joker represents chaos, as 'The Dark Knight' so eloquently put it. Each of these bad boy and girls tempt Batman to break his no kill rule when he faces them and he becomes a better man each time he does not give in. It is the same with heroes in any given story. Compelling writing comes from an author digging deep and finding the one insecurity that could destroy the protagonist and then handing it to the villain in a gift basket. Preferably with wine and cheese.
In conclusion, Batman may have more to offer you than a great action flick or epic page-turner, as long as you're willing to keep your mind open.
(And seriously, gimme that quarter.)
-Kyoko