This time last week, your favorite nerdy author had the privilege of attending Dragon*Con: a science-fiction/fantasy convention in Atlanta, Georgia. I attended because I was invited by the talented Milton Davis in order to be a panelist for The State of Black Science Fiction.
I flew in from Orlando, FL Thursday night and then woke up at the crack of dawn on Friday and took the train over to the con. One thing that veterans know about the con is that there's nothing you can do about the overcrowding problem. Dragon*Con is run out of five hotels in downtown Atlanta: Sheraton, Hilton, Westin, Hyatt, and Marriott. You'd think that'd be enough room, but it's not. Thousands of people attend every year, and it doesn't matter how early or late you're at the con. You're gonna wait in line forever and you're gonna be mad about it because the people who run the con refuse to move it to a venue like the Georgia World Congress Center because they are apparently all Mr. Krabs.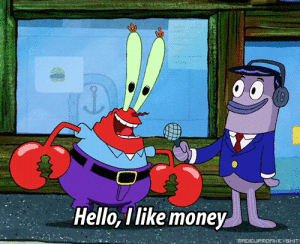 As a result, I basically spent most of Friday morning and afternoon mapping out the con and trying to figure out how to bounce between five freaking hotels. I was able to go to a panel run by Corey Castalleno, the guy who makes the creature makeup and effects for FOX's show 'Sleepy Hollow.' I couldn't stay for the whole thing, but it was actually really nifty seeing the different concept art for the monsters on the show and how he put them together before the final shooting of the episodes. I had to head from that panel to the one I was invited to participate in.
The State of Black Science Fiction is basically an assessment of how black culture has changed over the course of the preceding year. I was joined by Milton Davis (moderator), Balogun Ojetade, Nila Brown, Ed Hall, L.M. Davis, and Gerald Coleman. Milton presented us with questions about diversity in literature, television, movies, and comic books. For instance, he mentioned how the popularity of shows like Scandal and Empire have cast light on black women in Hollywood, and have increased interest in seeing black women either on screen or writing. We discussed how the advantages and disadvantages of the trend, and how we might be able to use it to open the doors into our own work long after it's gone. There was a good turnout for the panel, too; between 40-50 fans who also were able to ask questions towards the end of the panel.
It was a very enriching experience for me, since this was my first time ever being on a panel. I was able to answer a few questions myself as well as hear some unique opinions and perspectives from writers a little further along the career path than me. I love talking shop with other authors, and it was amazing to be able to interact with readers who enjoy diverse sci-fi/fantasy as well.
After the panel, I had dinner and then took an inadvisable trek to Joystick, which is a tiny bar about 2 miles from the con where the Black Girl Nerds meetup started at 7pm. I was lucky enough to meet the organizer, Jamie Broadnax, and engaged in some great conversation with another congoer and black author along with Milton Davis. It was an amazing environment with some truly witty, fun-loving fellow blerds.
On Saturday, I once again got up early and took the train in for a busy day of hobnobbing. The other reason I decided to attend DragonCon was because Tom Mison and Nicole Beharie, the stars of 'Sleepy Hollow', my guiltiest of guilty pleasure shows, attended. Nicole's autograph session was at 2pm, and so around half-past noon, I went into the Walk of Fame where all the celebrity guests were held, and started to map out what I was going to do. Since the room was already packed to burst and there is actually an occupant limit, I decided to mill around instead of leaving and coming back, which ran the risk of not being let back in.
While I was going from table to table, I happened to run into James Urbaniak, the voice of Dr. Rusty Venture from one of my favorite animated series 'The Venture Bros.' I said, why the hell not, and asked him for a selfie.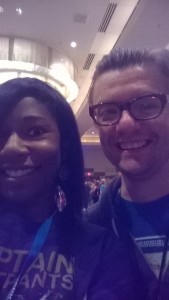 While the two of us were chatting and I was setting up my phone, someone walked past me behind the table. I turn to say 'excuse me, sorry that I was in the way,' and find myself face to face with BILL FRICKIN' CORBETT, aka one-third of the incredible team of Mystery Science Theater 3000 and later the incomparable Rifftrax. I instead exclaimed, "HOLY CRAP!" and then clapped a hand over my mouth and apologized profusely for setting my backpack on his side of the table.
Mr. Corbett, however, was super-nice and said not to worry about it, and I proceeded to gush like an idiot about how I had JUST been watching the Indiana Jones 4 Rifftrax the night before and how I had gone to the Rifftrax Live of Sharknado 2. Bill laughed and told me he swears they are not forcing him into riffing the third one, and we proceeded to chat about Atlanta and how he was enjoying the con so far. It was by far the most surreal experience of the entire con. The even funnier part is that I wasn't even supposed to be at that table. I had gone over to that side of the room because I saw Bill Farmer, the voice of Goofy, and I had an hour to waste so I figured I'd see him, but he had maybe four people in line and that was when I bumped into James Urbaniak. How cool is that? I didn't take a selfie with Bill since I had a limited amount of cash at the time, but that was an awesome freak accident if there ever was one. I am an absolutely enormous fan of Rifftrax, so this was beyond cool for a dork like me.
After that amazing random encounter, I returned to the area for Nicole Beharie and proceeded to stand in line…for a grand total of an hour and a half. It was as grueling as it sounds. One of the big things to note is that not only is Dragoncon overcrowded, but it's also expensive and poorly run. I was in line waiting for Nicole for an hour and a half, and then ten minutes before she showed up, a staff member told us her autograph was $50, cash only. I checked my wallet. I only had $35. Which meant I wasted all that time and wouldn't get her autograph because there was no posting that said how much she'd be, and the staff waited until the last second to tell us.
However, an extraordinary thing happened. The group of people I was in line with each donated $5 so that I could get the autograph. And I didn't ask them for it. I was about to get my stuff and leave, but they volunteered to help out. I was overwhelmed. That is by far the biggest show of kindness from complete strangers that I've seen all year. I thanked them profusely and then about 20 minutes later, I was able to meet Nicole Beharie, aka Lt. Abbie Mills from Sleepy Hollow.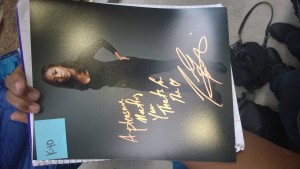 Meeting Nicole was everything I hoped for. She was unbelievably sweet, and very gracious. I told her that I was so grateful to have a black woman represented in a fantasy setting, and that as a black author, it was important to me that she portrayed her as so intelligent and strong and human. She scoffed when I told her I consider her a role model and told me, "You need better role models" and then I was also able to give her a paperback copy of The Black Parade. Yes, I know that's incredibly ballsy and it was probably foolhardy, but I went for it anyway because why the hell not?
After that, I sped my way over to the Magnificent Men of Sci-Fi/Fantasy panel, which turned out to be a blessing in disguise. I thought it was a panel about the male characters written by the authors on the panel—one of which was Jim Butcher, author of the Dresden Files, aka my favorite series ever—but it was actually a panel about their experiences as authors, not their characters. It bummed me out that it was moderator's questions only, no audience participation, but it actually turned out to be a really informative and fun panel nonetheless.
Last but certainly not least, I headed over to the photo op area for my much-anticipated photo op with Tom Mison and Nicole Beharie. The anticipation was killing me, but the end result was so very much worth it. I asked them to do a pose, which they thought was hilarious, and so they agreed and this is the end result.
No matter how much that trip cost, looking at this picture is always going to cheer me right the hell up. Tom gives amazing hugs, and Nicole's "jealous" face was 100% perfection. They were both such good sports and I cannot express how much I enjoyed meeting them.
My last day at the con was Sunday morning for An Hour with Jim Butcher. I had been debating whether I wanted to get up yet again and sacrifice my sleep for being a big dumb nerdy fangirl, but I decided to go for it. What ensued is probably yet another highlight of my entire life. Please enjoy the following.
Yes, that was me holding the camera. Yes, that was unscripted. Yes, Jim Butcher is basically Satan and is the most life-ruining author of all time. And yes, I still love him with all my heart.
After that hilarious panel, I took the train to the airport and then regretfully returned to my normal life.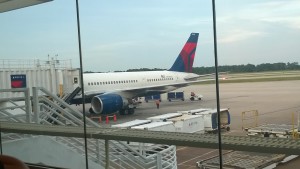 As stressful and expensive as Dragon*Con was, I'm still glad I went. It was my little island in the middle of a horrific storm that I've been trying to weather for the past several months. Even though I still think the con isn't run anywhere near properly, I would return if invited again. Those interactions make an otherwise dull life worth living.