In case you missed it, I'm currently in a free box set called The Paranormal 13 with a bunch of other hellaciously talented authors in my genre. One of them is the awesome Dima Zales, who has an upcoming monster of a sequel for your viewing pleasure. You can get started on his series by grabbing yourself a copy of The Paranormal 13 and then brace yourselves for The Enlightened.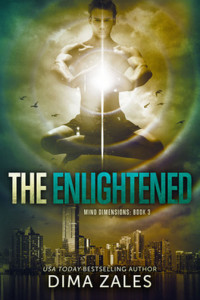 From USA Today bestselling author Dima Zales comes the highly anticipated third book in his Mind Dimension series: The Enlightened, which can now be pre-ordered at most major retailers. Book three continues the saga of Darren as he navigates the world of 'Readers' and 'Pushers' while trying to find out who killed his parents and why they might also want him dead.
In celebration of the cover reveal and pre-order for The Enlightened, the first book in the series, The Thought Readers is on sale for $.99 for a limited time.
Here are the links for The Enlightened:
Amazon US: http://bit.ly/TheEnlightenedUS
Amazon UK: http://bit.ly/TheEnlightenedUK
Kobo: http://bit.ly/1CjdlZ9
iBookstore: http://bit.ly/1Eu5d98
Google Play: http://bit.ly/1Ke1uuP

Here are the links for The Thought Readers:
Amazon US: http://amzn.to/1CRCEAI
Amazon UK: http://amzn.to/1ptpzDX
Barnes & Noble: http://bit.ly/1rH962i
Kobo: http://bit.ly/1pr7bvj
iBookstore: http://bit.ly/1CGpTaz
Google Play: http://bit.ly/1vy4Mnq
Smashwords: http://bit.ly/1xCU9Dc