Well, I've been saying I had news for months and here it is: I've written an all-new novella for the Black Parade series!
Seer and demon slayer Jordan Amador has had it rough lately: separated from her husband the archangel Michael, hated by the angels who think she betrayed them, hunted by demons who want her dead or enslaved, and rejected by her friends and family for lying to them. Disgraced and miserable, she's all but ready to lay down and die until another Seer named Myra Bennett saves her life. Myra gives Jordan a new mission: to wipe out a nest of demons that are terrorizing her family as well as the innocent people of Houston, Texas. Jordan goes undercover to infiltrate the demons' nest and figure out how to eliminate them. Meanwhile, she's locked in a deadly game with the archdemon Belial, who constantly visits her night after night in her dreams to convince her to give him her soul. Between the insanely gorgeous, but dangerous archdemon poking around in her head and the vicious creatures surrounding her, she's not sure how much longer she can survive.
Back to Black is the fifth book in the Black Parade series. It takes place between She Who Fights Monsters and The Holy Dark.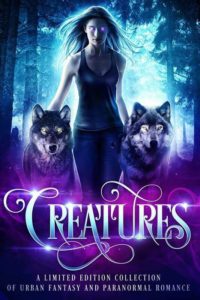 Back to Black is exclusively part of the Creatures boxed set, which features 21 other New York Times, USA Today, and Amazon bestselling authors. Pre-order it today and get your copy August 15, 2017.